The Tour des Muverans is a fantastic circular walk in the Valais, with many different options on how to tackle it.
.

There are three main places to begin the hike (Pont de Nant, Derborance or Ovrennaz); it can be done clockwise or anti clockwise; and it can be completed in three, four, or potentially five days. I took the trip with three friends in August 2019 and we elected to do the trip in three days, which requires a certain level of fitness.
The route is officially 54 km, with 4300m of up and down and 23 hours of walking. It is mainly above 2000m, reaching a height of over 2600m and a low point of 1230m.
There are plenty of options for accommodation and refreshments. We carried our own food for lunches, but it's perfectly possible to have lunch in different cabanes along the way.
The scenery is spectacular throughout, and in early August there was a carpet of flowers all along the route, all accompanied by insect and butterfly life. We saw salamanders, ibex, chamois, marmots and Lammergeier. The geography was equally varied with limestone and shale, and the historical twisting and turning of the earth's crust billions of years ago visible in the mountains along the way.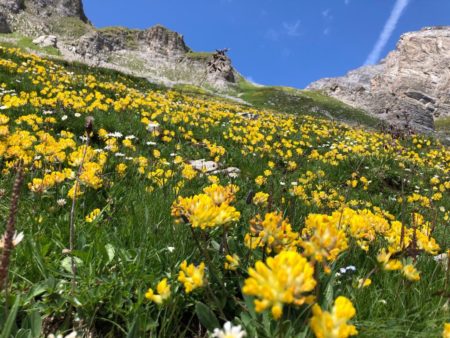 Day One
We set off from Pont de Nant above Bex, which is arguably the most dramatic of starting and ending points on the tour. It's a steepish climb out of the valley, but we were soon at La Vare having a morning coffee, fortified with local spirit, and topped with cream and a flower. If you are taking four days to do the tour then a variant of the route would be to climb up to the Cabane de Plan Névé. This has a spectacular view across to Lac Léman and is surrounded by the Grand Muveran and the Tête à Pierre Grept.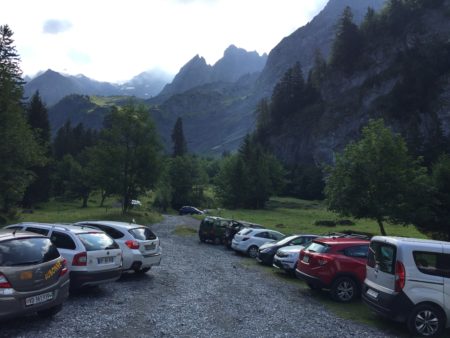 A pleasant walk through meadows followed, across a col and down to the Refuge Giacomni where we had lunch. This hut could be a stopping point if taking the four day option and including the climb to Plan Névé. Next stop for us was Derborance which involved a steep descent down past a waterfall and then through a forest. We had refreshments next to the lake (this is another option to overnight), before heading up to the Cabane de Dorbon, a charming place with accommodation for 20 people. The young couple who look after it cooked up a delightful meal of soup, lentil curry, and dessert, all excellently presented and washed down with craft beer from down the valley.
Day Two
We had an early start and headed uphill through limestone geology and out into our first wild mountain landscape.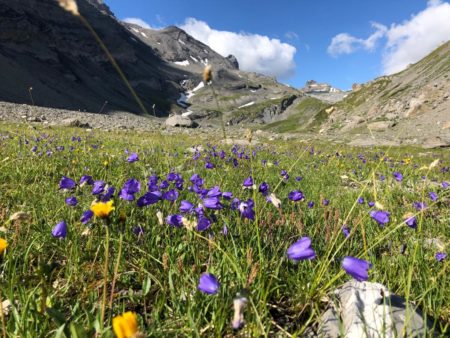 We had a bit of excitement traversing a long snow slope where our poles came in handy.
The top was the Col de la Forcla, at 2547m which gave us our first view down to the Rhône Valley over 2000m below. There was then a slightly tricky traverse over an eroded slope and a climb upto the Cabane Rambert. This is a popular day hike destination from Ovrennaz, and has outstanding views onto the southern Valaisan Alps as well as the Grand Muveran and Petit Muveran. It also has artisanal beer from the Mont Noble brewery in Nax, and would be a good place to stop if taking four days to hike the tour.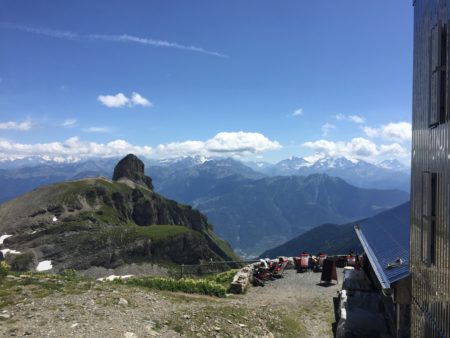 Our next destination was the top of the ski slopes above Ovronnaz before heading back uphill to the Col de Fenestral. Ovronnaz could be another good place to stop for the night if taking four days, allowing the use of the spa and a relatively short walk the next day through to the Cabane at the Col du Demècre.
Our choice was the Cabane de Fenestral which is at the col of the same name. It was renovated a few years ago and so has all the features of a modern mountain hut (inside toilets and washbasin) and grand panoramic windows looking out onto Mont Blanc and the mountains above Chamonix. Once again we ate very well and the guardians were very attentive, topping up drinks and plates.
Day Three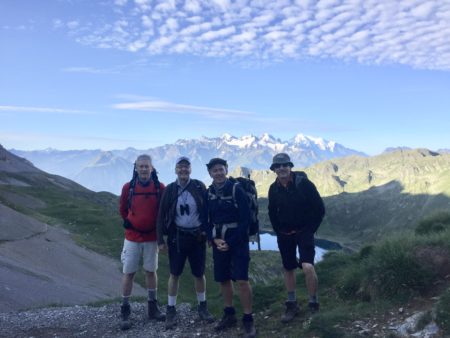 Again we started early and walked down to the Lac de Fully, and back upto the Col de Demècre. Here we had our first view of Lac Léman and the lower Rhône valley. Then we had a decision to make – to take the upper route along the contour, or the lower route which involved a steep climb down and back up.
Along the contour it was, and what an experience it was – a narrow path with steep drops to the Rhône valley on one side, dramatic views upwards as we traversed the Dent de Morcles. There were cables in a few places which were very welcome indeed. The route did give us some really spectacular views, and it's isolation from grazing animals also provided plenty of wildlife meadows with stunning numbers of flowers, butterflies and other insects.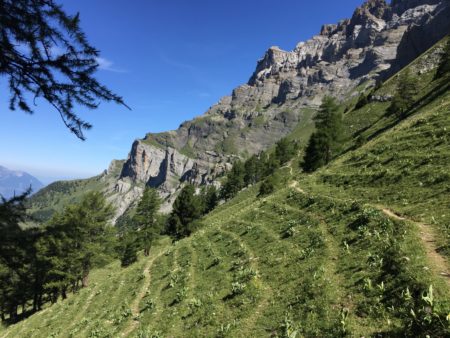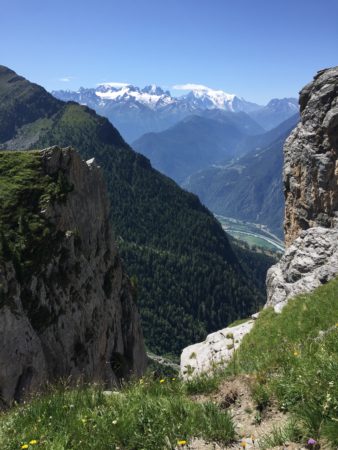 An hour and a half later we came out at Rionda where there is a viewpoint, and then it was a short walk to the Cabane La Tourche for a welcome beer and lunch.
Setting off for the final time we traversed a rocky slope which again offered spectacular views and then up a steep slope of scree to the Col des Perris Blancs.
Here the route map is wrong. According to the map the route heads directly down towards Pont de Nant. However, on the ground the route has been changed and now takes you up to the Pointe des Martinets and along another narrow path past Swiss army lookouts to the Col des Martinets. Here we passed three mountain bikers and wondered how on earth they had got there, and if they actually had a chance to ride their bikes along the way (they were pushing them as we saw them…).
It was then a long descent down to the valley, alongside the glacier and finally down through scrub and trees. The route had been washed away in the valley floor and was marked by red and white route markers on the trees. Finally we found a new bridge, and we were on the flat and able to walk along the valley to Pont de Nant.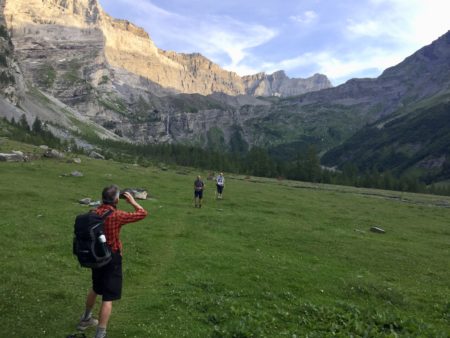 There is something pleasing about a circular route – reaching the end brings a familiarity and reminder of the start, but also the memories and experiences of the journey just travelled. If you have a head for heights this is a great round trip.
Map: Du Rhône aux Muverans. 1:25000 editionmpa by orell füssli.